Saltwater-P.D shaft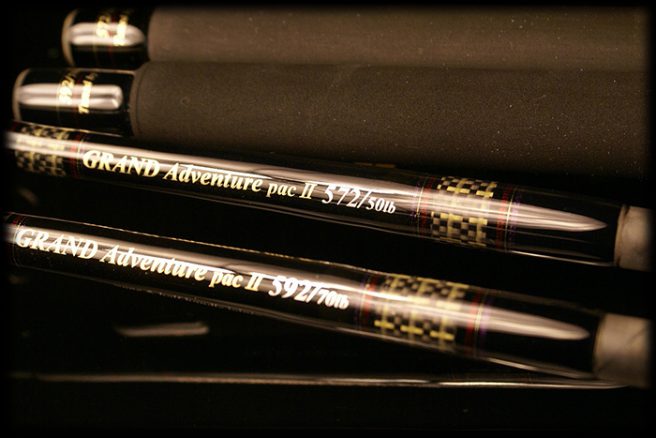 GRAND ADVENTURE PAC II
For Big Game jigging Traveller Model
With a packing length of only 102cm~111cm,this new rod will truly surprise you. Conpact and easily storable,the traveller model is perfect for the outward-bound hunter.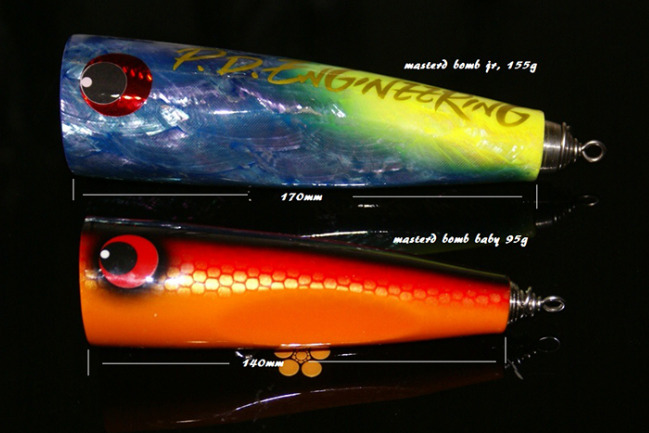 Masterd Bomb
World Class GT Baits
It is an unrivalled popping machine which we, P.D. Brand wish to express the utmost pride as we deliver it to you, the world. This is an essential piece of equipment in any serious monster hunters arsenal which we can proudly say out performs anything else available. P.D. Brand are creating and delivering a NEW WORLD STANDARD.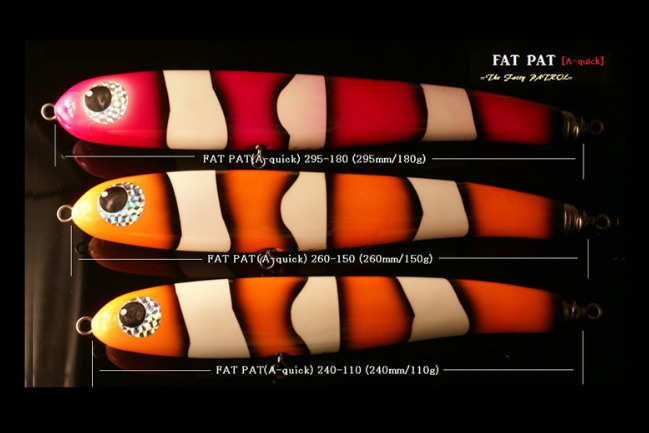 FATPAT
Sea face bubble creator --- Fatty PATROL
While the stick bait slides wildly to the left and right, the FAT PAT has a much shorter body, a bigger heavier more buoyant head and is designed 3 dimensionally. The large buoyant head creates a lot of bubbles during jerking as it, pivots, trembles and dives, mimicking the action of a real bait fish.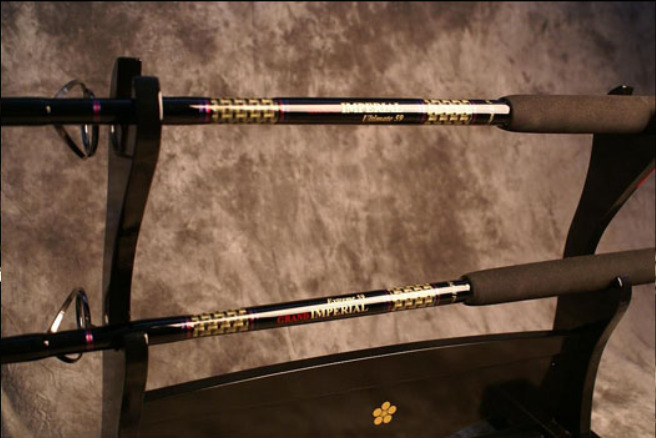 GRAND IMPERIAL
For Big Game jigging collection
The matchless range of HI-Torque. HI-Power rods with unique pre-emenant design,brought to you by P.D Brand.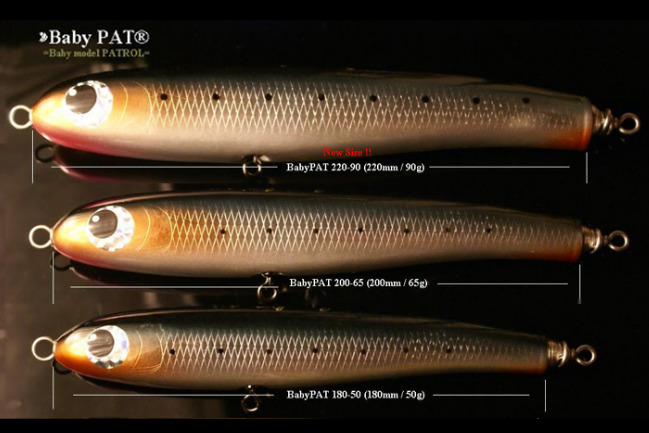 BabyPAT
For HIRAMASA & TUNA swim Baits collection
It has more than enough buoyancy which is why it's action works so well. We have reduced the size of the FATPAT《A-Quick》making it even more appetizing for targets without losing any of it's superb turnover trick action.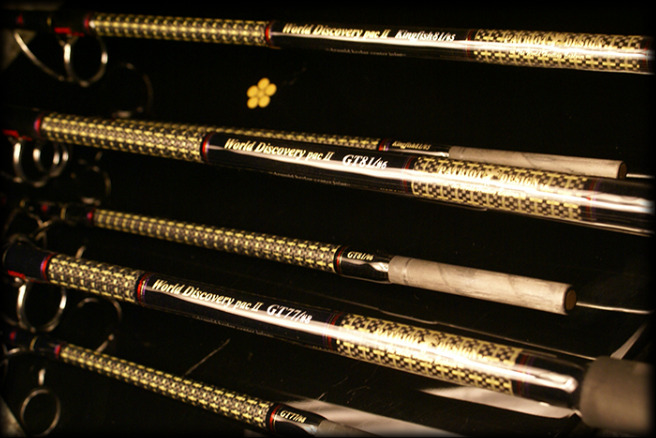 WORLD DISCOVERY PAC II
For Casting Game Traveller Model
With a packing lenght of only 121cm ,this new rod will truly surprise you. Compact and easily storable,the traveler model is perfect for the outward-bound hunter.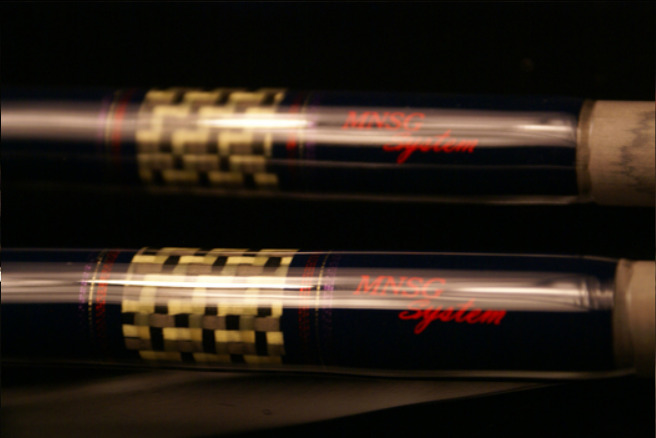 WORLD COMBAT GT-Z
For GT casting game collection
This system is unmatched. PD Brand can proudly go so far as to say that this system is perfection realized. Others will try to follow we are sure but none will achieve the quality we are providing now. The commanding performance of the PD Brand WORLD COMBAT GT-Z reigns supreme and will continue to reign supreme over all other following brands.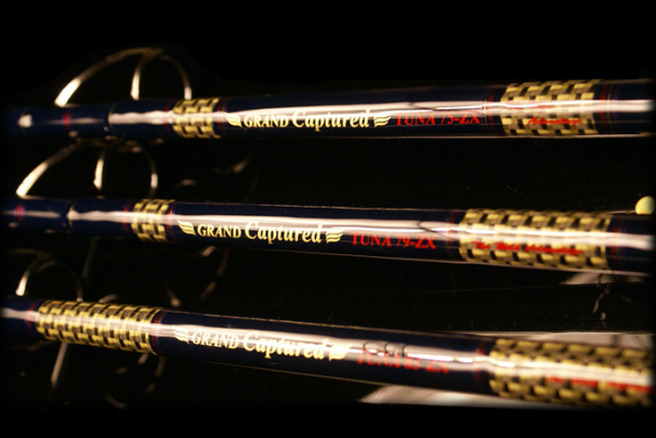 GRAND CAPTURED TUNA ZX
For Tuna casting game collection
Real hunters want the newest,most innovative weapons they can get their hands on. A multi faceted,power shooting Meister rod.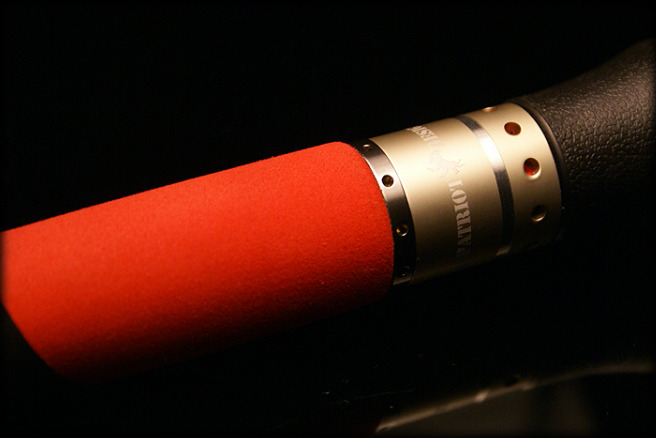 GRAND ARMOR TUNA
For Tuna casting game collection
The GRAND ARMOR TUNA gives incredible lure control, (you can feel the snap!). Beautifully designed to allow for comfortable bending but with the bat section constructed of Aramid fiber, unbelievable torque is at your disposal.